"Cake no longer so generous"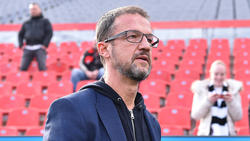 Eintracht Frankfurt's sports director Fredi Bobic expects "severe cuts" in the Hessian Bundesliga club in the Coronavirus crisis.
"We are fortunate to have been able to put something aside and increase our equity in the past four years. Nevertheless, it will hit us," said the former striker in an interview with the daily "Die Welt". "Because we are not only talking about this season, but also the coming one. And it is possible that we will not see any spectators in the stadiums for a long time."
    
Regarding the whole league, Bobic said: "If the cake is big, it will be distributed accordingly. But we all have to adapt to the new circumstances and see that the cake will probably not be as lavish in the future." an uncertain summer. "There will be cutbacks everywhere. But football has always been inventive – and I'm sure there will be solutions again this time," predicted the 48-year-old. "Nevertheless, the crisis will be very, very demanding. I am sure that it will change a lot economically." Little enthusiasm for Göttlich's advanceThe demand from Oke Göttlich, the president of the second division club FC St. Pauli, for an "equal distribution of revenue streams for them Liga "sees Bobic critically. "It is his right to demand that. However, I do not know whether it can be implemented in reality, because that is not how the free market economy works," he said Managing Director Christian Seifert recommended a break on Tuesday until at least April 30. The approval of the 36 professional clubs for this step at the general meeting next Tuesday is considered secure.