Klinsmann currently without a valid coaching license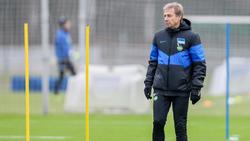 According to a "picture" report, Hertha coach Jürgen Klinsmann is currently required to provide proof of a valid soccer teacher license. According to this, the 55-year-old and his club are from the DFB asked to provide proof of this against the Bayern Munich team on January 19 against FC Bayern Munich. Klinsmann, who justified the process with documents that are currently not available to him, could in any case be represented by his assistant, the former Bremen head coach Alexander Nouri.
    
"When I got on the plane towards Berlin at the end of November, I didn't think I needed my trainer license and proof of further education, because I didn't know that I would become a Hertha trainer," quotes "Bild" the former national coach. "At Christmas I simply forgot the documents. There is currently no one in our house in California because my wife is at our daughter's place of study. But I am in the process of teaching all the necessary documents." The ex-professional had his license in June Acquired in 2000 from a special DFB course. "Each license is valid for three years after receipt," says the DFB. "For the extension of the license (…) proof of participation in further education events in the amount of 20 learning units must be submitted." Tobias Haupt, head of the DFB Academy, told the "Bild" that these rules would also apply to Klinsmann , "This is now being examined. We know that he has undergone further training in recent years, for example in Mexico and Brazil, but where less attention was paid to certificates." Together with the German Football League and Klinsmann, "concrete measures should now be taken." "to be discussed", through which Jürgen can close the gaps again, for example by participating in the international elite trainer congress in February in Mainz, "said Haupt. Klinsmann had taken over the chief position at Hertha at the end of November, initially until the end of the season.