Denise Herrmann misses podium in Oberhofer Sturm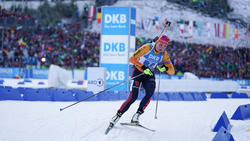 Pursuit World Champion Denise Herrmann awarded a possible podium finish at the last shooting at the home World Cup in Oberhof over 12.5 km. The 31-year-old took a total of six shooting errors in gusty winds ranked fifth.
    
At the end, Herrmann, who had placed an exclamation point in the sprint on Thursday, made three misses. For the DSV runner, it was the fifth top 10 in a row: Kaisa Mäkäräinen from Finland won in 39: 58.9 minutes and confidently took her 27th World Cup victory with one shooting mistake, while Tiril Eckhoff from Norway took four shooting mistakes second, 30.2 seconds back, her team-mate Marte Olsbu Röiseland (3 / + 35.0) took third place. Herrmann was 1: 25.0 minutes back and Vanessa Hinz (+ 3: 25.0 minutes) had to be satisfied with a disappointing 25th place after nine shooting errors. Hinz had moved into the field for Franziska Preuss, and Pruss decided not to start in Oberhof after a break due to illness over the turn of the year. She is already preparing for the World Cup in Ruhpolding: Janina Hettich, Maren Hammerschmidt, Franziska Hildebrand and Marion Deigentesch were not qualified for the 30 field. Already on Wednesday the women in Ruhpolding continue with the sprint over 7.5 km.