Transfer tip for BVB, Watschn for RB Leipzig critics, praise for Robert Lewandowski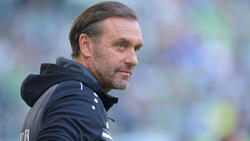 Ex-Bundesliga coach Thomas Doll is convinced that RB Leipzig can make a big splash this season. The 53-year-old has a clear announcement ready for critics of the "RB project". In the meantime, he recommends a very specific transfer to BVB. He trust RB Leipzig to win the championship this season, Thomas Doll made clear in an interview with "Sport Bild". "And everyone who complained in the past few years according to the motto: 'This is a plastic club without tradition, we don't want it' – these people should be quiet and just watch the dream football," said the football teacher against RB -Critic.
    
A striker for Leipzig's success is, in Doll's eyes, striker Timo Werner, who has enormous qualities on the one hand, but at the same time benefits from the fact that the game of the "Red Bulls" is completely tailored to him. "In a counter situation, you immediately see which side Werner is on. He can concentrate on his sprints in the system with two tips, doesn't have to work as much backwards," explained Doll.Doll with transfer tip for BVBOb RB Leipzig for the first time in The still young club history of becoming German champions should also depend largely on the pursuers from Dortmund and Munich. Doll had a clear recommendation for BVB with a view to the future: the transfer of Salzburg youngster Erling Haaland. "Haaland would look very good for BVB. The Dortmund team has some playing strikers and he, as a central striker, would be perfect […] He could develop well in the young Dortmund team, "said Doll, who also limited:" The fast-paced game of the Leipzig team would also be perfect for him as a massive, fast man. "Lewandowski the" best striker in the world " At FC Bayern, Robert Lewandowski is clearly the key to success in Doll's eyes. For the 53-year-old, the Pole "is the best striker in the world. Not just because of his goals. His force, his power, his fitness and tackling – just outstanding. He draws all the attention to himself. Robert misses no chance Huge thing, "enthused the former 96 coach. FC Bayern could always rely on Lewandowski. We are seeing the best Lewandowski of all time," Doll is convinced. Doll flirted with the 2nd Bundesliga when the German fans could see him again Not answering Doll. After his failed engagement at Hannover 96 he could "make no more demands", the coach admitted frankly. Therefore, the 2nd Bundesliga is also an option: "There are many traditional clubs that want to go up. Such clubs would of course be an option for me." Dolls from abroad are also "many, many requests from clubs from all over the world", revealed the coach, who said that clubs from Australia, South Africa and China have already contacted him. How does his decision ultimately turn out? "Everything is possible."